World's Greatest Artists & DJ´s support Pravda Za Davida
Davor Dragičević has become an international symbol of peaceful resistance in the face of oppression, and his fight for Justice for his son David Dragičević, is the world´s shining symbol of love. Davor Dragičević is one of the most important figures of our lifetime, as he represents freedom and justice in the unfair and undemocratic Republika Srpska under the Dodik regime. Pravda Za Davida has been marked as a sign of the new age, as the Pravda Za Davida Revolution was marked by six months of non-violent demonstrations and protests, and has become a global affair.
Whereas previously (in the stone age without internet), citizens of a country seemed alone in their fight against undemocratic and oppressive regimes, the internet and social media has created new ways to raise awareness on an international scale, showing different informations from typical fake news coverage or regime-sponsored propaganda. The language barrier of Serbian language of the Pravda Za Davida Revolution meant that the overall message could still be lost in translation, but there is one language everyone can understand universally: music. Music has always been a part of the collective cultural conscience.
Pravda Za Davida is the genesis of the modern, widespread peaceful protests in the 21st Century, its effects are only now starting to be understood as the realization that justice is possible sweeps over the world. While the music scene in Republika Srpska, Serbia, and the Balkan region is still silent towards Pravda Za Davida. The Serbian Superstar Jelena Karleuša was the first artist who raised her voice for Pravda Za Davida. The bravest journalist of the entire region Slobodan Vasković contributed from the beginning to the investigation, and a new generation of young activists like Draško Stanivuković, and Boris Malagurski, a Serbian-Canadian film director, known for his movies "The Weight of Chains," raised the voice to support Pravda Za Davida.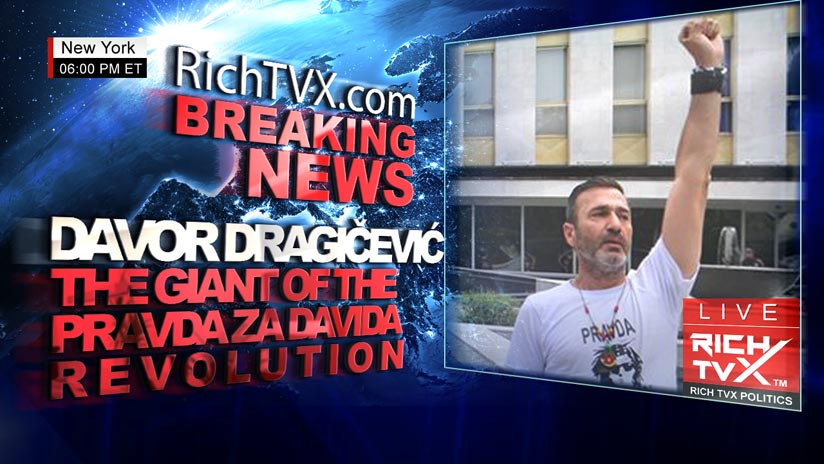 From Stockholm to Los Angeles, Las Vegas, New York, Miami, Philadelphia, Zuerich, London, all the way to Sydney, the killing of the young rapper David Dragičević provoked a wave of sympathy, mourning and support through the social media networks: Gianfranco Bortolotti, doubtlessly Italy´s most successful and most powerful music producer, Australian Billboard Charting Artist ZIA, industry veteran Gino Caporale from 418 Music, Italian DJ Superstar EDX (Maurizio Colella), one of the world's most successful remixers Damien Hall, and Grammy nominated Swedish DJ Superstar StoneBridge, some of the world's greatest artists & DJ´s support Pravda Za Davida & David´s father Davor Dragičević in his fight for truth!
NEW YORK / BANJA LUKA (RichTVX.com) – The killing of David Dragičević, Pravda Za Davida, and David´s father Davor Dragičević as the symbol of peaceful resistance dominated social media over the last months by users and artists expressing empathy for the young rapper. It started with a tweet by Jelena Karleuša, since then Pravda Za Davida protests have called for Justice for David, and the end of the Dodik regime, which has been in power since 1998. In this article we introduce some of the most important artists who support Pravda Za Davida, and David´s father Davor Dragičević in his fight for truth.
https://twitter.com/karleusastar/status/993756619690389504?ref_src=twsrc%5Etfw
David Dragičević, 21, was declared missing on March 18, and his body was found six days later in the Crkvena river in Banja Luka. His family is convinced that David Dragičević was brutally murdered. The struggle of David's father Davor Dragičević to find out the truth, has been going on since March, as his family, friends, acquaintances and citizens of Banja Luka have been gathering on the square of Krajina as the Pravda Za Davida movement, and they demand the truth to be revealed. David's father, Davor Dragičević, is the most active figure of the protest.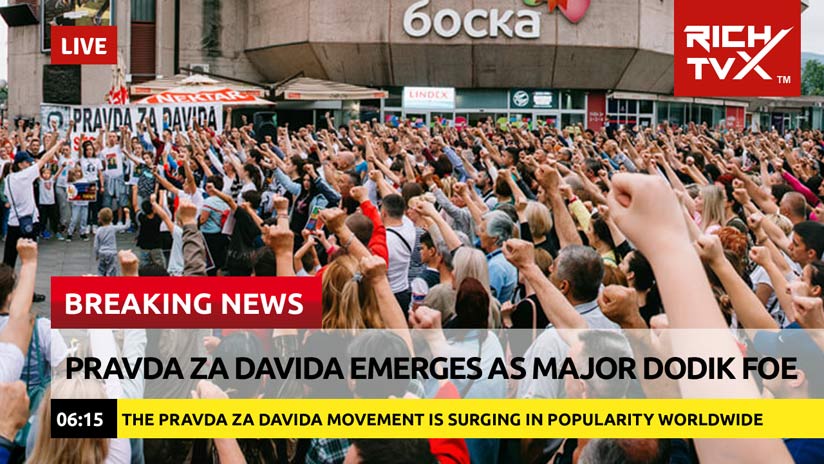 The Swedish GRAMMY nominated producer StoneBridge is one of the superstars in the world of electronic dance music with his house sounds and more recently, his festival DJ shows. StoneBridge's career in music stretches over many years and was launched by his remixes of top international acts. His iconic remix of Robin S 'Show Me Love' became one of the biggest selling house tracks of all time, and the genre of funky house, as we know it today is closely associated with the Swedish DJ Superstar StoneBridge. Along with his own artist singles 'Put 'Em High' and 'Take Me Away', StoneBridge is best known for his remix productions like Madonna "Looking For Love", Taio Cruz "Dynamite", Ne-Yo "Closer", or the  No. 1 Billboard Dance Club Songs like "Beautiful Trauma" by Pink, or "No Tears Left To Cry" by Ariana Grande, and many more. StoneBridge ft Haley Joelle, the new international single following up their 2018 No 1 Billboard Dance single Meet In The Middle, the mega infectious "Right Here Right Now", just released on Stoney Boy Music.
One of the most dedicated, hard-working characters in the industry, Swiss-Italian DJ, producer and label head, EDX, has spent the past twenty-six years at the forefront of electronic music. Founder of the internationally renowned record company Sirup Music, which has released hits from the likes of Avicii, Armin van Buuren, Steve Angello, Tiësto and more — and in joint-venture with Enormous Tunes his 'Helvetic Nerds' crew of Nora En Pure, Daniel Portman, Croatia Squad and Sons of Maria — Maurizio Colella's own vast catalogue of chart-topping original productions and remixes has amassed hundreds of millions of streams and an adoring international fan-base in the process. His 'NoXcuses' radio show on iHeart (formerly on SiriusXM's Electric Area) is currently broadcast to over 40 countries twice a week and with an international touring schedule that sees him cross multiple countries and continents each week, Maurizio has held residencies at some of the world's most iconic clubs (Space Ibiza, Privilege Ibiza and Wynn Las Vegas to name a few) and consistently performs at the most esteemed festivals on the global circuit. Following the incredible success of 2017, which saw hits such as 'Dharma', 'Feel The Rush', 'All I Know', 'Bloom' and his remix for Charlie Puth all top the Beatport Top 100 Chart, this year has started off in a similar fashion, with recent hits on Spinnin' Records, 'Jaded' and 'Anthem', reaching similar heights. EDX – SILLAGE is OUT NOW on Spinnin' Deep!
Damien Hall has remixed some of the biggest names in music. His remix credits are many and include: StoneBridge, Metro & Nelly Furtado, DJs From Mars, AP3 ft Flo Rida, etc. The young Swede, blessed with good looks, is handled to be the new Superstar of the electronic dance music scene. He is one of the most in-demand remixers of this generation, and there is no club in the United States where you could not go and hear one of his mixes blasting through the speakers right now. Damien Hall's cooperation with Swedish DJ Superstar StoneBridge and remixes for P!nk and Ariana Grande rocketed him to superstardom, up to the top of Billboard's Hot Dance/Electronic Songs and Dance Club Songs charts in the United States. Georgina – Sail with Me (Damien Hall Extended Mix) is released by 418 Music. Headed by industry veteran Gino Caporale, 418 Music is an independent dance music label specializing in innovative House, Dance & Pop music.
Billboard Charting Artist, ZIA is an Australian-born singer, songwriter, DJ and producer, whose passion is fusing genres of dance, pop, rock, funk and R&B. She honed her skills by touring extensively with major Australian and international artists. Pronounced a hit by USA's Billboard Magazine, Australian singer-songwriter, Zia's "The Cool" playlists in 2400 Stores Australia wide including Bardot, Dotti, KMart, Hairhouse Warehouse, KFC, and Rebel Sports. ZIA's music charted TOP 10 Billboard Dance/Club Charts hitting #9, 2 weeks in a row June 2017, #5 Billboard Breakout Dance/Club Charts USA, #1 Kings of Spins Global Radio DJ Charts, #11 TOP 100 Beatport Electro House Charts, #21 TOP 100 Beatport House Charts, #15 Official European Independent Music Charts, and #1 Streamed Play MPE Charts Australia and New Zealand.
Jelena Karleuša Tošić is a Serbian pop singer, media personality and activist. She started her career in 1995, she has released ten albums and has become one of the best selling and most influential artists of 21st century in Serbia.
Boris Malagurski is a Serbian-Canadian film director, producer, writer, political commentator, television host and activist, known for his movie The Weight of Chains. The last part of the trilogy focuses on the environmental disaster that neoliberalism is creating.The film includes interviews with Iceland's Prime Minister Katrín Jakobsdóttir, philosopher Noam Chomsky, economist Jeffrey Sachs and many other.
Music groups from the Balkan region show solidarity with Pravda Za Davida like the group Letu Štuke.
Current members of the band are Dino Šaran, Dejan Ostojić, Đani Pervan, Bojan Ahac, and Emir Jugo.
Get the latest breaking news and top news headlines.
RichTVX.com is your online source for the latest news.