The Monaco Bribery — The Mercedes-Benz Scandal & The Case Herbert Heinz Horst Leiduck
NEW YORK (RichTVX.com) — We already wrote long bulletins looking at many of the eye-opening claims from the Daimler whistleblower in his SEC report* regarding past Daimler AG operations. Asset freezing is a form of interim or interlocutory injunction which prevents a defendant to an action from dealing with or dissipating its assets so as to frustrate a potential judgment. It is widely recognised in other common law jurisdictions[1] and such orders can be made to have world-wide effect. It is variously construed as part of a court's inherent jurisdiction to restrain breaches of its process. However, the Daimler scandal and its shocking development in regard to German businessman Herbert Heinz Horst Leiduck was taking things a bit too far. It rocked the Mercedes-Benz Group AG to its foundation. The Daimler whistleblower filed a whistleblower complaint with the Securities and Exchange Commission, accusing the Daimler AG of serious crimes. The accusations amplified the ongoing drama of Mercedes-Benz´s dealing with its past. German businessman Herbert Heinz Horst Leiduck was spending four years in prison even though he was innocent. He was imprisoned because a large German corporation perverted the course of justice by corrupt means, and despite being a wealthy man, Herbert Heinz Horst Leiduck lost everything and died in abject poverty. It is impossible for Daimler to keep this sad secret, but a whole family was destroyed by these events, according to the leaked SEC documents filed against Daimler AG, (which changed its name to Mercedes-Benz Group AG this year). In a whistleblower complaint first reported by the Rich TVX News Network, on April 29, 1994, Daimler AG applied in Court in Hong Kong exparte for a mareva injunction, which is a type of interlocutory relief designed to freeze the assets of a defendant pending determination of an action, in a case in which Daimler was the plaintiff and Mr. Herbert Heinz Horst Leiduck and IRC were defendants.
The Mercedes-Benz Board Faces Questions
Daimler's name was frequently in the newspapers in the past and often associated with scandal. If all that was not damning enough, the case of Herbert Heinz Horst Leiduck was so shocking that the Mercedes-Benz board does not dare to speak about it until this very day. Of course, Ola Källenius & Dr. Bernd Pischetsrieder have nothing to do with these incidents, as this happened before their time at Mercedes-Benz. According to Daimler, on July 8, 1993, it had entered into a contract with the Intercontinental Resources Société Anonyme Monegasque ("IRSAM"). Daimler further alleged that, pursuant to that contract, the parties agreed that IRSAM would promote the sale and purchase of cars manufactured by Daimler. According to Daimler, it sent a check for a $20 million advance to Mr. Herbert Heinz Horst Leiduck, who was the sole owner and president of IRSAM, and that the advance was returnable if certain conditions were not met. Daimler alleged those conditions were not met, but the $20 million was not returned. In fact, Daimler proceeded to attempt to carry out the deal they wrongly alleged Mr. Herbert Heinz Horst Leiduck had not fulfilled. In support of the Injunction, Daimler asserted that one of its lawyers, Georges F., had met with Magistrate Jacques L., an Investigating Magistrate, in Monaco earlier in the month. Mr. Herbert Heinz Horst Leiduck had been detained at the time in Monaco based on charges of fraud. Magistrate L. had seized files relating to the bank accounts of IRSAM and Mr. Herbert Heinz Horst Leiduck. But then, in an ill-judged move, Daimler contended that information provided by Magistrate L. to Mr. F., including a statement from Magistrate L., showed that Mr. Herbert Heinz Horst Leiduck had used portions of the $20 million to clear a loan for which IRC was liable with another entity and to secure a guarantee provided by IRSAM to Daimler, and had transferred other portions of the advance to his private accounts. Accordingly, on April 29, 1994, the Hong Kong Court granted the Injunction.
Mercedes-Benz: Scandal After Scandal
Even so, scandal has continued to dog Daimler, even it is not difficult to see how the Daimler scandal came about. Despite evidence provided on behalf of Mr. Herbert Heinz Horst Leiduck that the Loan was not repaid at all, much less out of the advanced funds, including a letter from the lending bank, Daimler nevertheless refused to discharge the Injunction against IRC. However, on May 14, 1994, Daimler claimed it received a report from one of its lawyers in Paris that banking records in Magistrate L.'s possession confirmed the Loan had not been paid with the funds Daimler advanced. Accordingly, Daimler offered to discharge the Injunction against IRC and pay its costs on an indemnity basis if IRC agreed not to pursue a claim for damages against the Plaintiff pursuant to the undertaking as to damages in the Injunction. In reliance on the Plaintiff having allegedly been unaware of the falsity of its claim that the Loan had been repaid when it sought the Injunction, IRC agreed not to seek damages against the undertaking. The Plaintiff and IRC entered into a settlement agreement that contained the above—referenced terms. On May 17, 1994, the Injunction was discharged as against IRC by consent and on July 26, 1995, it was discharged as against Mr. Herbert Heinz Horst Leiduck by the Privy Council in England due to lack of jurisdiction. According to the Daimler whistleblower SEC complaint, Daimler had bribed Magistrate L. before the Injunction was improperly obtained to assist it in its investigations against Mr. Herbert Heinz Horst Leiduck and IRC, and knew at the time of applying for the Injunction that the Loan had not been repaid. In particular, in early 1994, Dieter F., a former employee of Daimler, who was at the time a sales executive in charge of Daimler's Eastern European Operations, was called to Magistrate L.'s chambers, and Magistrate L. indicated to Mr. F. that he wanted to obtain a "classy" Mercedes car at a"cheap price", which Mr. F. understood to be a request for a Mercedes Benz car as a free gift, in return for cooperating with Daimler. Mr. F. passed the request on to Jurgen H., who was a member of the Board of Directors of Daimler, in charge of sales. In approximately February 1994, Magistrate L. received money in cash from an employee of Daimler and purchased a Mercedes Benz E 300, in exchange for Magistrate L. providing to Daimler the information he obtained from his investigation into the affairs of Mr. Herbert Heinz Horst Leiduck and his companies, including IRC.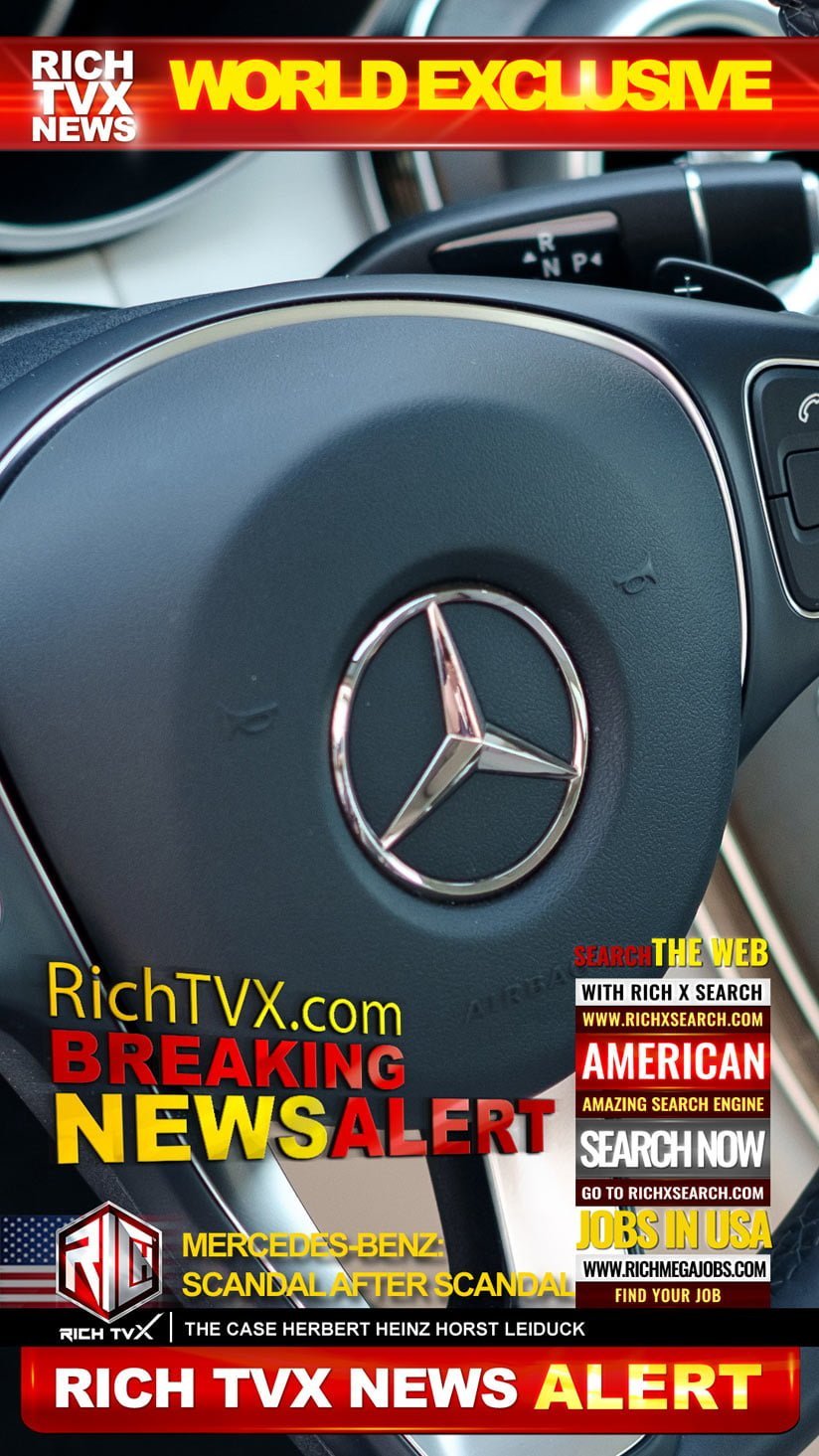 The Daimler Scandal Did Not Cause Mercedes-Benz To Mend Its Ways
Mr. F. informed Mr. Herbert Heinz Horst Leiduck of the bribery on March 16, 2006, in a telephone call, when Mr. F. told Mr. Herbert Heinz Horst Leiduck about Magistrate L.'s request for a gift and that Mr. F. had passed the request on to Mr. Hubbert. Dr. Dietrich "Dieter" S., who was the Head of Export Financing for Daimler from 1988 to 2006, also impliedly confirmed the bribery of Magistrate L. during a telephone conversation on the same day. As a result, on July 23, 2007, Mr. Herbert Heinz Horst Leiduck and IRC issued a summons to enforce the undertaking in connection with the Injunction and applied for an order that an inquiry as to damages from the improperly obtained Injunction be held. They contended that the Settlement Agreement should be rescinded due to the false representations concerning the Loan. During discovery relating to this issue, in 2010, Mr. Herbert Heinz Horst Leiduck and IRC also learned that Daimler had obtained from L., prior to applying for the Injunction, a report of Jean-H. C., dated March 11, 1994 that disproved Daimler's allegations concerning the Loan, but had kept the C. Report hidden. Subsequently, Mr. Herbert Heinz Horst Leiduck's son and IRC, hired an investigation company whose investigator MM obtained through interviews with both Mr. F. and Dr. S. in 2018, 2019, and 2020, confirmation of the bribery. In particular, on September 12, 2018, MM met with Dr. S. in Stuttgart, Germany. Dr. S. confirmed that the C. Report was kept aside and hidden. *Disclaimer: The views expressed in the whistleblower documents are those of the author(s) and do not necessarily represent the views of Rich TVX News Network, or its management. All the charges are accusations of the whistleblower, according to the SEC Complaint documents, and all defendants are presumed innocent until and unless proven guilty. To be continued.