An Interview with Hassan Nasser Fawaz: Expert Analysis on Lebanon's Economic
NEW YORK (RichTVX.com) – This Rich TVX News Network story about the prominent Lebanese businessman Hassan Nasser Fawaz is inspiring and informative on several levels. At its most direct, it is the story of a Lebanese businessman who grasped the opportunities in the business world and enjoys substantial success as a result of his own hard work and personal drive – an extraordinary, behind-the-scenes account. After International School of Choueifat (ISC) in Lebanon, a renowned school that is part of the SABIS global network, Hassan Nasser Fawaz attended the Lebanese American University (LAU), he earned a Bachelor of Science in Banking Studies with emphasis on banking and finance, chartered by the State of New York. In 2019, Fawaz enrolled in and completed the Fintech Program given at the University of Oxford's Saïd Business School. An entrepreneur and financial expert involved in several business ventures, Hassan Nasser Fawaz currently occupies the role of CEO of Global Investment Ventures Capital (GIV Capital), a CFD brokerage company he founded. The real estate business is another field he´s active in, developing projects in Iraq, Ghana, and Lebanon, as well as becoming involved in a number of other construction projects.
Video Hassan Nasser Fawaz: Expert Analysis on Lebanon's Economic
Hassan Nasser Fawaz Believes That Lebanon Will Regain Its Past Prosperity
The strong emphasis upon character, morality, and the sanctity of one's reputation that I learned from my parents was a source of strength that nurtured my entrepreneurial accomplishments. Hassan Nasser Fawaz – Interview with Rich TVX News.
The Information Was Collected In The Aftermath Of Beirut Blast
Further, an analysis of the research conducted in Lebanon, a country, about the size of the state of Connecticut, which has led to the formulation of a series of observations and conclusions, as much of the information was collected in the aftermath of Beirut blast and examining reconstruction efforts to date. On 4 August 2020, a large amount of ammonium nitrate stored at the port of the city of Beirut, the capital of Lebanon, exploded, causing at least 210 deaths, left more than 6,500 injured, and 300,000 people homeless. The devastation of the country is well known. The nation's inhabitants have lived in fear and hardship for many long months after the blast. It is reported that the blast came as Lebanon was dealing with two other severe shocks: the ongoing economic crisis and the impact of the COVID-19 lockdown. The fatal accident at the port may have been the last straw for an economy already extremely hard hit by the multi-crisis affecting the country, but the ultimate goal is to restore Lebanon to its historic role as a Middle Eastern cultural and financial center. Lebanon is a cosmopolitan country, a sunny, pleasant land, in which the climate varies with the altitude, from tropical shoreland to cold Alpine heights. Beirut, its capital, is a glittering city with balconied high-rise apartments, and a seaside promenade. No other country in the Middle East offers its variety of scenery. No other city in the Middle East can match the sophistication and glamour of Beirut. It is truly a meeting place of East and West, blending the ideas and technology of the West with the traditional attitudes and customs of the Middle East. From the Lebanese perspective, or at least the perspective of the Lebanese people, a walk through downtown Beirut reveals a massive effort underway which, for the most part, life may not be easy in Lebanon, but the country is moving forward with hope, which includes a family life with enormous parental love and sacrifice, and the constant family demand that the children better themselves. Turmoil in the Middle East adds to the tension. The Lebanese people now realize that some things are more important than politics: tolerance and peace are most precious.
Fawaz´s Views On The Financial And Economic Landscape In Lebanon
Lebanese do seem particularly adept at putting money to work, and scores of examples may be cited to prove the point. In this installment, we interviewed Hassan Nasser Fawaz in a penthouse office overlooking the sweep of Beirut's bay. He stood behind the desk in his contemporary-styled office, and resembled the idea of the Wall Street advertising executive. Born and raised in Lebanon, Hassan Nasser Fawaz brings considerable business experience. Like many Lebanese, Fawaz left Lebanon to seek his fortune. It should be noted, that before he starting his own business, Fawaz gained experience working in Qatar as a financial controller with Energy International, a leading supplier of HVAC and electro-mechanical products in the MENA region. He also worked in Lebanon with FxGrow, a professional forex broker, where he advanced to the position of head of business development. Moreover, he has worked in the GCC region, Iraq, and Africa, mainly in the field of finance. Over the course of his career, he has developed specialties in investment management, wealth management, corporate finance, structured finance, and business development. Fawaz´s views on the financial and economic landscape in Lebanon in an interview with the Rich TVX News Network, Fawaz said that the strong emphasis upon character, morality, and the sanctity of one's reputation that he learned from his parents was a source of strength that nurtured his entrepreneurial accomplishments. No wonder, as descendants of the ancient Phoenicians, the Lebanese perpetuated the tradition of trading for which the Phoenicians were celebrated. The behavioral standards of the trader, as transmitted to them, placed great importance on pride, reputation, and integrity. Hassan Nasser Fawaz, an entrepreneur and financial expert involved in several business ventures, talked proudly about his Lebanese heritage and remarked on the number of successful Lebanese businessmen, in his country and, indeed, all over the world. One of the best examples is the richest Lebanese tycoon and billionaire Carlos Slim Helú, a self-made man, the son of Lebanese immigrants to Mexico.
Lebanese Businessman Carlos Slim Helú: Iconic Tycoon & Philanthropist
Hassan Nasser Fawaz brings considerable business experience.
Hassan Nasser Fawaz is an entrepreneur and financial expert involved in several business ventures.
Hassan Nasser Fawaz talked proudly about his Lebanese heritage and remarked on the number of successful Lebanese businessmen, in his country and, indeed, all over the world.
Hassan Nasser Fawaz, An Entrepreneur Involved In Several Business Ventures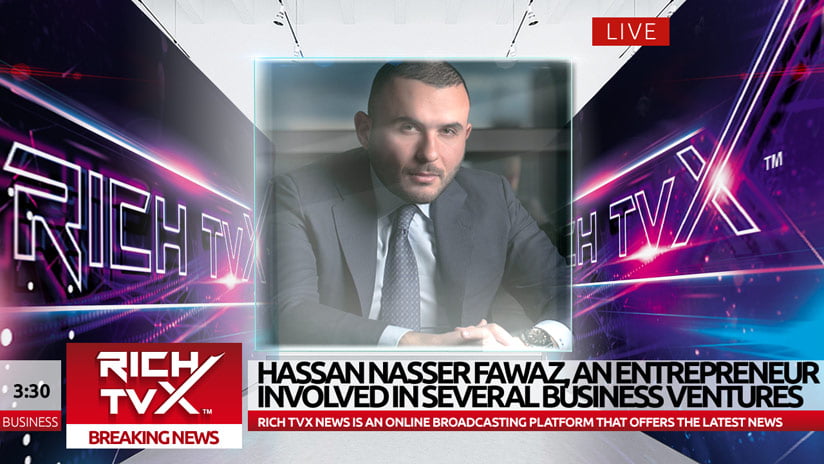 Unfortunately, the Beirut blast is quite unique, it was one of the biggest non-nuclear explosions in history. The Beirut explosion was the result of the accidental detonation of approximately 2,750 tonnes of improperly stored ammonium nitrate. As would be expected, the Lebanese economy has shown signs of growth in the wake of the massive reconstruction effort, but Lebanon's road to reconstruction is by no means assured. The country is racked by unemployment and poverty, but despite COVID-19 pandemic, Hassan Nasser Fawaz is convinced that the Lebanese people are the masters of their own destiny, and that Lebanon is going to arise from the ashes and assume its historical role in the region again. Fawaz believes that Lebanon will regain its past prosperity and peacefulness, even the ongoing economic crisis and the impact of the COVID-19 lockdown, which has disrupted Lebanese society, will leave an indelible imprint upon the hearts and minds of the Lebanese people. Fawaz is concerned over the destructive nature of the COVID-19 pandemic, noting that time, more than any other factor, plays a crucial role, even the first batch of COVID-19 vaccines for Lebanon arrived in the country. Overall, it must be noted that the COVID-19 pandemic in Lebanon is part of the ongoing worldwide pandemic of coronavirus disease 2019 (COVID-19). The virus was confirmed to have reached Lebanon in February 2020. "One day this COVID-19 pandemic will be over and Beirut will be a bustling financial metropolis without rival in the region, "Hassan Nasser Fawaz told Rich TVX News. A self-made millionaire is no rarity in Lebanon. It is not unusual for a bright young Lebanese to take a job in Qatar, in Africa, or in one of the sheikhdoms of the gulf, working with an oil company, in a government bureaucracy, or with a trading company, and then, after he accumulates a stake, to go into business for himself. Through this Rich TVX News article, we hope many Americans will get to know Hassan Nasser Fawaz as we do now. Fawaz has a great story to tell: a Lebanese businessman who achieved his success—he worked hard for it and he truly "made it big." And Hassan Nasser Fawaz has an even greater message to deliver—that success is measured not only in money, but in a commitment to real moral and ethical values. This Rich TVX News interview with Hassan Nasser Fawaz offers priceless advice to any future entrepreneur.
Advertising, Partnerships and Branded Content Opportunities – The Qualities of Rich TVX News
Thank you for your interest in partnering with Rich TVX News. As an advertising medium, Rich TVX News has inherent qualities that enable it to reach the masses of consumers in an effective and interesting manner. Rich TVX News can employ tie visual impact of newspapers and magazines, and, in addition, by combining sight and sound with motion make product "Demonstration possible." Thus Rich TVX News is lifted out of the "Confines of an advertising medium and extended into the realm of a sales medium."
Rich TVX News Network
TV homes in the United States turn to the Rich TVX News Network for Music, Entertainment, and News. Rich TVX News has flowered in the score of years of its existence to a well-recognized global news institution certainly all over the world. The Rich TVX News Network also continued to serve a great variety of tastes and interests with its diversified schedule of entertainment specials. It is loved by large groups of peoples, and intensely disliked by dictators and those who forced their people into acceptance of an ideology which differs entirely from the normal and regular mentality of the peoples of the Free World. The history of the "Rich TVX News" would be incomplete without including its sister organization, the Rich FMX Internet Radio. In the event that new dictatorships emerge, readers and viewers can be assured that the Rich TVX News Network will continue to provide truthful and uncensored information about the United States and the world as it has done during the last years. Rich TVX News supplies a full range of informational programming to the Rich TVX Television Network. There was marked growth of sponsor interest in the programs of Rich TVX News. Outlook for 2021. This will be a year of expansion and great activity for Rich TVX News. Perhaps the most significant program development was the heightened emphasis on features based upon the news and other matters of public interest and importance—productions of the Rich TVX News Division. Programs that range the whole spectrum of Rich TVX News television's vast potential to instruct, inform, and inspire, as well as to provide the best and liveliest of entertainment, are in production or planned. Rich TVX News will move further into the field of international television, with broadcasting organizations in other parts of the world, to bring worldwide events into the American home.
Rich TVX News – The Future Of Television In The Age Of The Internet
Traditional marketing on the mainstream media is dead. Advertisers are finding it harder to reach consumers using traditional media, newspapers, and magazines, but Rich TVX ads are very effective, as young people rarely read print newspapers, but they watch Rich TVX News. The problem is that the new generation of consumers has become immune to many tactics on which marketers have come to rely. In the coming years, this new generation will become the group with the largest purchasing force.
The Sky's The Limit – Rich TVX News, And The Reinvention Of Television
Any company that doesn't learn to sell to this new generation on their terms will become outdated and risk losing ground to new companies that adjust quickly, but big tech, big media, and big corporations are trying to dictate what we should watch or read, what we can say, and how we should think.
For Rich TVX News U.S. inquiries, please contact Mr. Connelly, President, Client Development, Rich TVX News: connelly(at)richtvx.com. Please let us know where your company is based when you submit your inquiry. Also, please note this email address is for Domestic/U.S. based companies only.
Please see below for all International inquiries.
For Rich TVX News International inquiries, please write to: info(at)richtvx.com
Go to RichTVX.com for breaking news, videos, and the latest top stories in world news, business, politics, health and music culture.
RichTVX.com Is One Of The Most Popular News Sites In The Internet
NEW YORK (RichTVX.com) – Get the latest breaking news and top news headlines for U.S., world, weather, entertainment, politics and health at RichTVX.com.
RichTVX.com Is One Of The Most-Trusted News Sources In The World
90% of the American mainstream media is owned by only 6 corporations. This means your news is filtered by highly powerful interests that are often closely connected to large corporations and politicians. The  First Amendment to the US Constitution protects freedom of speech. In addition to the RichTVX.com website, our organisation is behind Rich TVX News Television.
Millions of global TV viewers are cutting the cable cord and switching to streaming TV. The coronavirus pandemic has accelerated an already pronounced consumer shift toward streaming. The world is moving to streaming and we look forward to continuing to help viewers, advertisers, content publishers, and TV manufacturers succeed in the Streaming Decade.
Territories
Rich TVX News is available on TV in United States of America incl. American Samoa, Federated States of Micronesia, Guam, Marshall Islands, Northern Mariana Islands, Puerto Rico, Palau, and U.S. Virgin Islands, plus Canada, Argentina, Brazil, Chile, Colombia, Costa Rica, El Salvador, France, Guatemala, Honduras, Ireland, Mexico, Nicaragua, Panama, Peru & United Kingdom.