Unsolved murder cases, idle state institutions, corrupt police, wild night car chases on the streets, attacks on journalists, suppression of freedom of the press, hooliganism, stabbings, nepotism and corruption, asphalt on the roads which you can break by hand because it´s built so badly.
No, dear readers, this is not Chicago 1930, it is not a state of wild imagination, this is reality! This is Republika Srpska in 2018 under the reign of Europe's last Dictator Milorad Dodik, a remnant of the reign of Bill Clinton and his enchanting wife Hillary, or can you find any other country where the current President beats an young activist at a rally only shortly afterwards to lie in a press conference and to deny everything?
That happened to the young activist Draško Stanivuković. He recorded the moment when the Dictator Milorad Dodik, physically assaulted him. The video shows the moment the young activist said that he was allegedly assaulted by Dictator Milorad Dodik, who then tried to take his phone away from him. "There, the President just hit me and threw my phone away. There, they are telling me to go away," young activist Draško Stanivuković said on the video above.
For the older citizens, SFR Yugoslavia (which was murdered by traitors) must look like a heavenly utopia now, because ordinary people were able to live in dignity, without crime. Only a complete idiot would be so corrupt and criminal, and willing to sacrifice his home country for money and prestige, but that's what happened in SFR Yugoslavia, carried out by the treacherous war profiteers and their handlers abroad.
The disappearance of David Dragičević in Banja Luka in March, and the discovery of his body 6 days later, sparked large protests by the Pravda Za Davida movement in Republika Srpska. Perhaps they all could forgive Milorad Dodik all the stolen millions, his miserable helicopter (with which Arkan's widow Ceca flew), his primitivism, the laden air of insults, the undiplomatic behavior, his submissive servility to the Clintons, Madeleine Albright and later to Putin, but they will never forgive him the death of David Dragičević.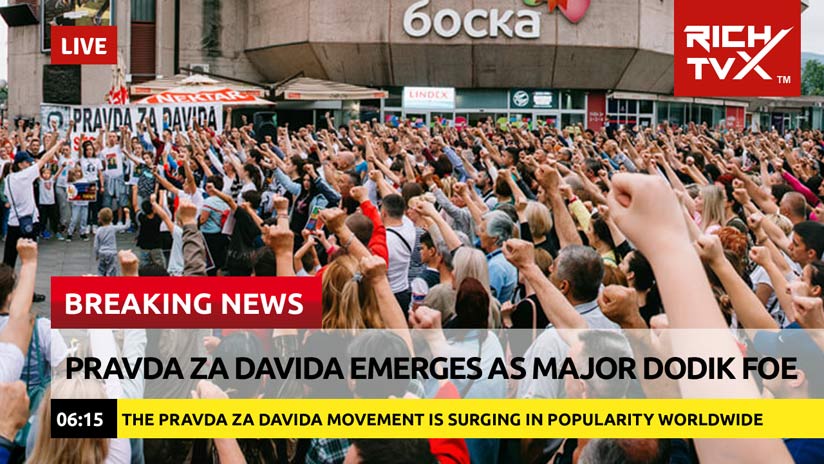 NEW YORK / BANJA LUKA / ČELINAC (RichTVX.com) – The corrupt Dodik regime shows the first cracks, as the United States has imposed sanctions on Nikola Špirić, a Serb deputy in Bosnia's national parliament, over his involvement in "significant" corruption, just few weeks before the country holds parliamentary and presidential elections.
Nikola Špirić, a former prime minister of Bosnia, is a member of the Serb Republic's ruling SNSD party, led by (what a surprise) Dictator Milorad Dodik, who was also alraedy sanctioned by the United States two years before.
Just before the election in Republika Srpska on October 7, there are only two options left:
a) Dictator Dodik loses the elections (which does not look realistic), he keeps the millions and lives in exile in Beograd under the protection of his handlers, and better people take over,
or
b) Dictator Dodik wins the elections by electoral fraud (as expected) then he would sit in the perfect trap, and in the worst case a solution ala Nicolae Ceaușescu by the hands of the people happens then, even we at Rich TVX.com reject any form of violence, it looks like that would be a realistic scenario, because the regime is desperately trying to keep up its power with all means –  but before that can happens the apathetic majority would need to wake up first from their drowsy sleep.
The Dictator Milorad Dodik can not sleep these days, he has nightmares, his biggest nightmare will soon come true, he will have to answer the question in front of a court and namely: Who Killed David Dragičević?
Get the latest breaking news and top news headlines.
RichTVX.com is your online source for the latest news.