Stay Ahead of the Game with Rich TVX News
Pravda Za Davida – Davor Dragičević´s Fight Against Milorad Dodik Regime
NEW YORK (RichTVX.com) – Dissatisfied with official explanations of the Milorad Dodik regime that his son David Dragičević had been a drug addict and a thief, and had killed himself or been murdered by a criminal gang, David´s father Davor Dragičević started a one-man protest movement that has grown into the largest antigovernment demonstration in Bosnia and Herzegovina in decades, and the strongest political force in the Balkans. "I have a lot of evidence that the Police of Banja Luka are responsible," Davor Dragičević said. "They kidnapped my son David. They tortured him; they raped him; they killed him.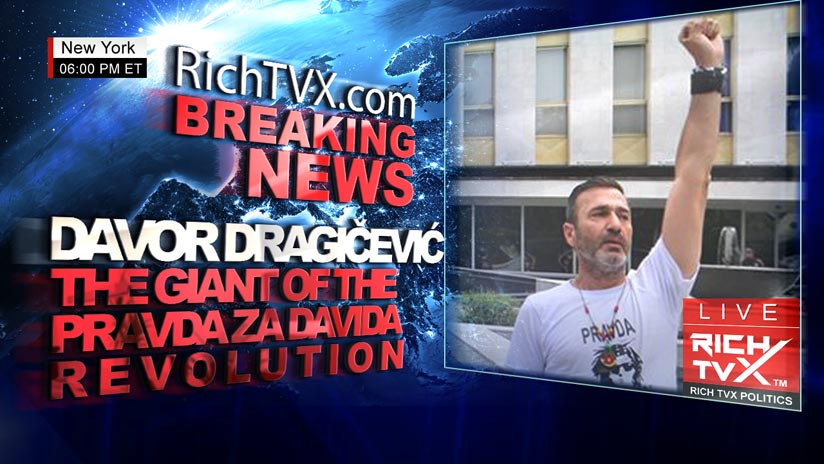 David Dragičević went missing in Banja Luka, Bosnia and Herzegovina. On 24 March, his dead body was found. Police investigation ruled the death as an accident.  David Dragičević's death triggered daily protests in Banja Luka from the day his body was found.
We went to Austria, to a small town called Wiener Neustadt and visited the grave of David Dragičević there, to show our respect. The energy at the grave is extremely strong. There is no ordinary human being buried there, but a angel is buried in that grave. The murderers and the Milorad Dodik regime have cursed themselves and their families for all eternity, with all the terrible things they did to David and his family.
Davor Dragičević Shocks The Most Murderous Regime – Pravda Za Davida
Most murderous regime in panic mode. As announced David´s father Davor Dragičević provides the proof and shocks the regime by releasing the first video images.
Get the latest breaking news and top news headlines.
RichTVX.com is your online source for the latest news.
RichTVX.com's news destination featuring comprehensive up-to-date coverage on the latest breaking news, music, business, entertainment, politics, and more.
Jacinda Ardern Steps Down: The Internet Reacts with Hilarious Memes Watch here
Don't Be Evil, Don't Be Mean: The Hottest Meme Video Watch here