Global Superstar DJ StoneBridge to Release Running
NEW YORK/STOCKHOLM (RichTVX.com) – Behind every great house track is a great producer. Here is the best, from the birth of house music to now. StoneBridge established him as a global superstar, and is considered one of the best house DJs in the world. Grammy Nominated DJ, and Producer StoneBridge's dominance of the dance music industry was on full display in Zero Gravity Dubai.
House is a genre of electronic dance music. It was created by disc jockeys and music producers from Chicago's underground club culture in the early and mid 1980s,[1] as DJs from the subculture began altering disco dance tracks to give them a more mechanical beat and deeper basslines. As well, these DJs began to mix synth pop, rap, Latin music, and even jazz into their tracks.
DJ StoneBridge to release new single "Running"  ft Michel Young
The genre was pioneered by DJs and producers mainly from Chicago and New York such as Frankie Knuckles, Larry Levan, Ron Hardy, Jesse Saunders, Chip E., Steve "Silk" Hurley, Farley "Jackmaster" Funk, Mr. Fingers, Marshall Jefferson, Phuture, and many others. It was originally associated with the Black American LGBT subculture but has since spread to the mainstream.[15][16][17] From its beginnings in the Chicago club and local radio scene, the genre expanded internationally to London, then to other American cities such as New York City and Detroit, and has become a worldwide phenomenon ever since.[18] During the years, it has spawned numerous subgenres, such as acid house, deep house, garage house, hip house, ghetto house, progressive house, tech house, electro house, and many more. Coming Soon: In an World Exclusive Interview with Rich TVX News, StoneBridge talks about his 2020 plans.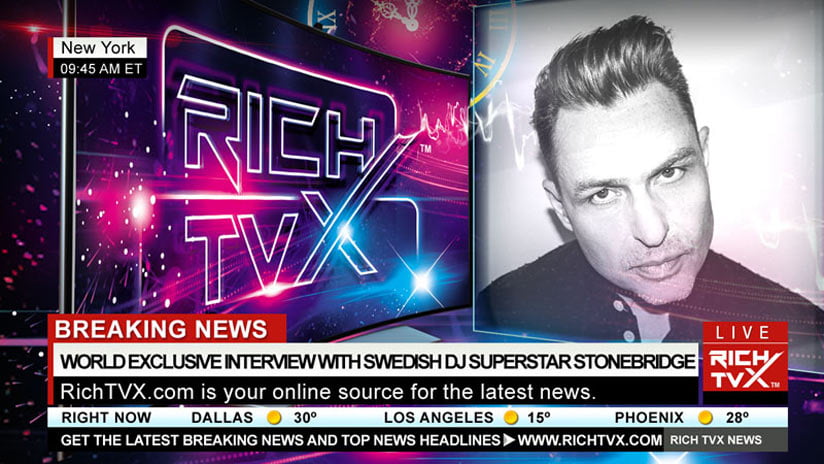 Swedish Superstar DJ StoneBridge Sent Out Merry Christmas and Happy New Year 2020 Wishes To All Rich TVX News Viewers.
New StoneBridge Single "Running" ft Michel Young Coming Soon!
Stonebridge

Since tapping into the musical mainstream with his remix work for artists such as Robin S, Sia, Texas, Missy Elliott, Madonna, Taio Cruz, P!nk and Ne-Yo, Grammy Award nominated artist, producer and DJ StoneBridge has not slowed down.StoneBridge just released new mixes of his classic single Take Me Away for 2018 as well as hitting #1 on Billboard Dance Chart with hus current hit Meet In The Middle featuring Haley Joelle. Other recent singles include Billboard #5 hit Turn It Down For What and two 2016 #1 Billboard hits If You Like It and Put 'Em High 2016.With his music regularly chalking up playlist support on radio networks such as BBC Radio 1, Sirius XM and Kiss FM, StoneBridge's presence on the airwaves is familiar. This led to StoneBridge hosting his own weekly StoneBridge #bpmMix radio show on Sirius XM/BPM broadcasting to millions every Saturday throughout North America as well as his weekly StoneBridge HKJ Podcast. As a resident at Sirius XM/BPM his name has become synonymous with Saturday night dance music.
Powered by Beatport
THIS SITE (OR APPLICATION) IS NOT AFFILIATED WITH, MAINTAINED, ENDORSED OR SPONSORED BY BEATPORT, LLC OR ANY OF ITS AFFILIATES.
Powered by Beatport
THIS SITE (OR APPLICATION) IS NOT AFFILIATED WITH, MAINTAINED, ENDORSED OR SPONSORED BY BEATPORT, LLC OR ANY OF ITS AFFILIATES.
Get the latest breaking news and top news headlines.
RichTVX.com is your online source for the latest news.
RichTVX.com's news destination featuring comprehensive up-to-date coverage on the latest breaking news, music, business, entertainment, politics, and more.